Day 1
Arrival to Skopje Airport and transfer to Skopje. Sightseeing of the city including visit of the Museum of Mother Theresa, the Saint proclaimed by the Catholic Church and Nobel Prize awardee, born in Skopje. After we will continue the city tour by foot towards the Ottoman Stone Bridge, Medieval Fortress Kale, passing thru the newly built baroque Macedonia square including the statue of Alexander the Great. The most recent buildings of the Skopje 2014 project, all resembling the great baroque style settled along the main capital Square Macedonia and justifying the title of our day as "Macedonian Mix" will also be a part of our walking Skopje tour with an excellent chance for an unforgettable photos. We will visit the extraordinary Museum of Macedonian struggle offering staged wax statues in real size presenting the dark and complex past of the Macedonian people thru the history of national awakening. We will enter into Old Bazaar for delicious lunch and free afternoon for shopping local souvenirs close exploration of the everyday life of different ethnics thru coffee or tea and mingling with the locals. The rest of the day is free and we meet for dinner in dinner in the Old Bazaar. Overnight in hotel.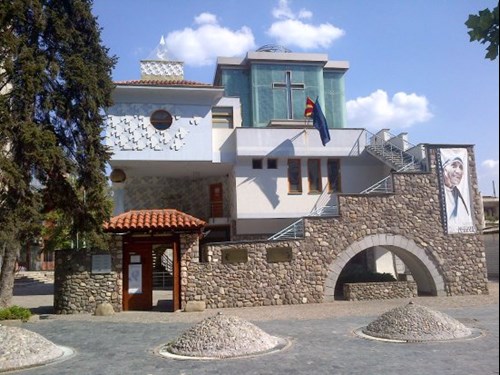 Day 2
Check out from the hotel and kick off of the adventure. We will cycle from the hotel (city center) to Vodno hill and village of Shishevo where we will have break for traditional lunch. Continuation of the tour to Matka canyon where we will have short walk to Matka Lake and boat ride to the deepest underwater cave in Europe – Vrelo Cave. Later in the afternoon, a bus boarding and transfer to Mavrovo National Park for accommodation and overnight will follow.
*cycling tour details: 34 km/450 m D+/900 m D-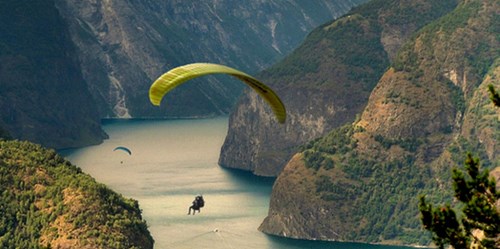 Day 3
Short transfer to mountain hut Carevec. Cycling tour to village of Galicnik and Mijak people`s region, one of the most picturesque areas in the country. Authentic architecture, beautiful landscapes, meadows and tasty food. From Galicnik, we will head to ski center Zare Lazarevski and will make circle around Mavrovo Lake. Bus transfer to House of Mijaks for traditional lunch and visit of the 11th century Bigorski Monastery will follow and afterwards a short bus transfer to village of Jance for a leisure time. Traditional dinner and overnight in hotel Tuto`s eco houses, where long before the eco-building trend had begun, a local guy called Tuto started building using ecological and natural materials: stone, wood and mud. Our host Tuto has also restored part of the old houses of the village which will be visited by the guests.
*cycling tour:  46 km/400 m. D+/800 m. D-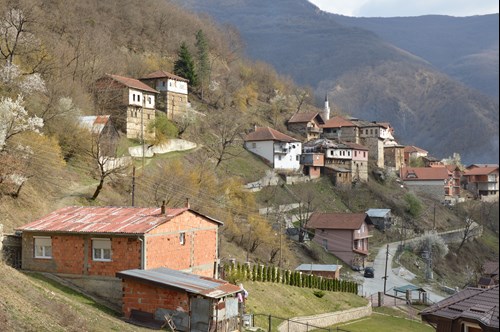 Day 4
Hotel check out. Bus transfer to village of Radozda. Cycling tour to village of Kalishta and village of Vevcani. Visit of Vevcani springs and traditional lunch. Vevcani, an "Independent Republic" within a Republic has its own currency and own passports, the most rebellious and outbrave community in North Macedonia welcomes its guests on a journey thru time, tradition and tales. Nestled at 800 meters above sea, safeguarded by Jablanica Mountain for more than 24 centuries, Independent Republic of Vevcani is proud of its river springs, revolutionary past, Carnival, architecture, food and of course, its famous Vevcanians. This rural municipality is considered the most distinctive community in Republic of North Macedonia - never subdued, always proud. Famous for their Vevcani Springs, Vevcani Carnival, architecture made by their great masons, churches, archaeological sites and traditional gourmets, this self-proclaimed "Republic" always offers a remembering experience. Even being a small settlement with small number of citizens, Vevcani is proud to be the home of many poets, painters, novelists, partisans, rebellions, priests and even world known scientist. Mihajlo Pupin was one of them. While in Vevcani, the visit to his family house, today a museum and restaurant is a must. The House of the family Kitanovski is also a monument worth seeing. Its construction was so significant, that it has installed bricks brought from Belgium or doors bought in Greece. All the modern rebels and world order opponents, in Vevcani can buy its own currency "Licnik" or they can get themselves an Independent Republic Passport.
Cycling tour to city of Struga (possibility for city sightseeing) and city of Ohrid. Traditional dinner and overnight.
*cycling tour: 44 km/100 m. D+ /200 m. D-
Day 5
This day is all about the "Jerusalem of the Balkans" – Ohrid and its exploration by foot. UNESCO protected site, Ohrid is Macedonia's most seductive destination. It spreads on the edge of the oldest lake in Europe, with an atmospheric old town that cascades down steep streets, dotted with beautiful churches and topped by the bones of a medieval castle. Traditional restaurants and lakeside cafes up its cobblestone streets, which in high summer is pretty lively scenery. Ohrid is small enough to hop from medieval historic monument into a deck chair and dip your feet in the water – a lovely little town beach and boardwalk make the most of the town's natural charms. Its medieval part encloses world-wide monuments particularly important for the Slavic and Byzantine story. Plaosnik is home to the multi-domed medieval Church of St. Kliment and Pantelejmon, the foundations of a 5th-century basilica and a garden of intricate early Christian flora-and-fauna mosaics. Its central church was restored in 2002, it is unusual in having glass floor segments revealing the original foundations and framed relics from the medieval church, which dated to the 9th century. In extension, St. Jovan Kaneo, a stunning 13th-century church is set on a cliff over the lake, about a 15-minute walk of Ohrid's port area, being probably North Macedonia's most photographed object. It's not hard to peer down into the azure waters and see why medieval monks found spiritual inspiration here. This small church has original frescoes behind the altar. In the very core of the city`s old town, Ohrid's grandest church, 11th-century St. Sofija Cathedral is supported by columns and decorated with Byzantine frescoes, still well preserved and very vivid. To one side of the church there's a peaceful, manicured garden providing a small oasis of green in the heart of the Old Town. At the very top of Ohrid`s hill, the massive, turreted walls of 10th-century Castle indicates the power of an medieval state, while nowadays it gifts tourists fantastic views over the town and lake. After the tour, you will have free afternoon and possibility for beach time. Overnight.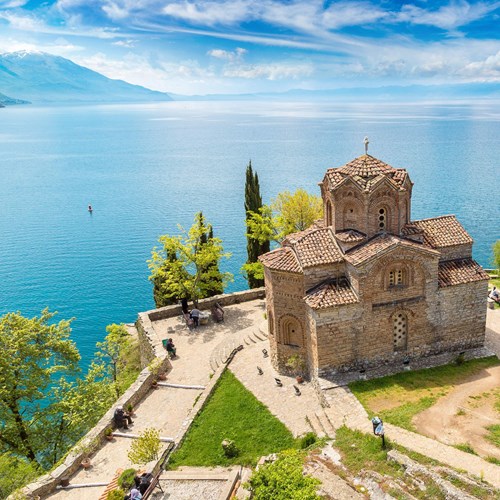 Day 6
Check out from the hotel. Bus transfer to border crossing with Albania - Kafasan. Crossing the border with bicycles and cycling around the oldest lake in Europe – UNESCO protected Ohrid Lake. Stop in city of Pogradec for coffee break. Cycling to Monastery of St. Naum and visit of this marvelous complex located on a cliff with a breathtaking lake view. The monastery is named after his founder - Saint Naum and represents the finest of Macedonian history and culture. A piece of land where nature and divinity make everybody feel peace, and tranquility. Crossing the Monasteries` gates open a scene of beauty, holiness and calmness - a treat that St. Naum offers to all its guests. After this beautiful discovery that satisfies the quest for peace and beauty, it is time for good food. Lunch will be served nearby the life-giving springs of Crn Drim River. Here, the guests will have the rare privilege to enjoy the taste of variety of fish – menu, including world known Ohrid Trout, cooked on a traditional manner. Leisure time and dinner. Overnight at Ohrid Lake coastline.
*cycling tour: 39 km /150m. D+ / 450m. D-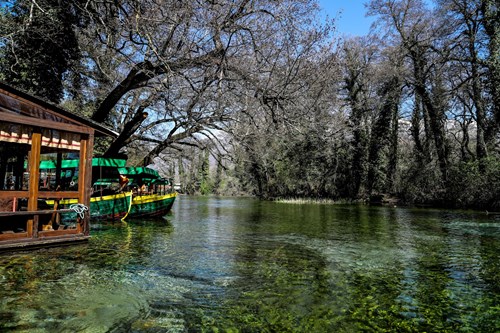 Day 7
Check out of hotel. Bus transfer to neolith locality and museum on water - Bay of Bones for sightseeing the reconstruction of the oldest water settlement found in North Macedonia. Later on, bus transfer to St. George in National Park Galicica wil follow from where we start cycling tour to village of Stenje in Prespa Biosphere Reserve. We make short stop for refreshment in a location with stunning views of both Ohrid and Prespa Lake and continue the tour to village of Carev Dvor for traditional lunch in family – owned organic apple farm. In the afternoon, we cycle to village of Pretor with a short stop at private folklore museum in village of Podmocani. Dinner and overnight in Prespa.
*cycling tour: 44 km/ 950 m. D+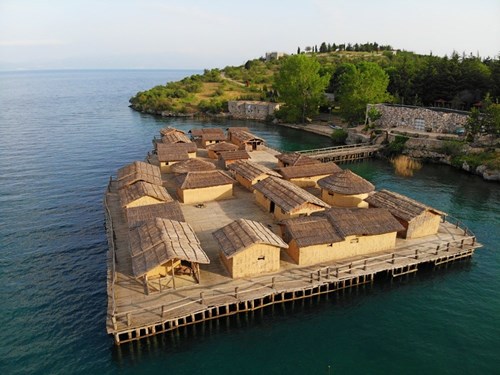 Day 8
Check out and cycling from Prespa to village of Dihovo (Bitola, National Park Pelister). Traditional lunch, honey tasting and api – therapy in organic bee farm. City tour (by foot) of Bitola including the Shirok Sokak promenade, Bitola`s traditional architecture, Heraclea Lynkestis archaeological site, Old Bazaar and Clock Tower. In the afternoon, bus transfer to Demir Kapija for wine tasting and dinner. Here, in Tikves region the winery we will visit, Royal Queen Marija, is among most renowned wineries in Republic of North Macedonia, hosting several thousands of domestic and international tourists all-year-round. At the winery, the group will be educated on the basics of Macedonian traditional wine production, the technology applied, types of grapes and the harvest process nurtured in more than 30 centuries. During the dinner, the group will also hear the story of Serbian King Alexander Karadjordjevic`s who had his vineyards here and the Villa for his Queen Marija.  Overnight in Tikves Region.
*cycling tour: 40 km/500 m. D+ / 600 m. D-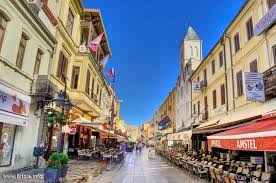 Day 9
Departure to Skopje Airport.