Day 1: Belgrade – the city between the east and the west (Serbia)
Arrival in Belgrade and meeting with the tour guide at the airport. Check in at the hotel. Feel the energy of vibrant Serbia`s capital that never sleeps through panoramic and walking day tour: we will visit picturesque Kalemegdan fortress and discover its fascinating history. We will explore Belgrade through its  cultural and historical highlights like the National Parliament, President Tito Mausoleum, St. Sava Temple - the biggest Orthodox temple on Balkans, Republic square and we will stroll thru Knaz Milos pedestrian street ending in Skadarlija where we will have lunch break in this charming bohemian part of the city. In the afternoon, sightseeing of Zemun - the most southern city of Austro- Hungarian Empire will follow, today having a huge park with stunning views over confluence of Sava and Danube. The day will end with transfer to the hotel and overnight in Belgrade.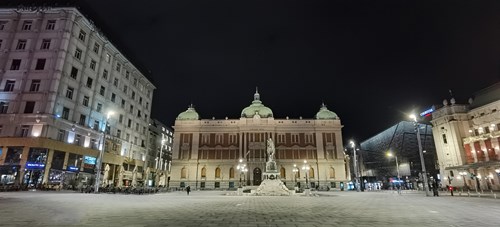 Day 2: Belgrade - Novi Sad - Sremski Karlovci - Belgrade (Serbia)
Today you will spend a day exploring the surroundings of Belgrade in this excursion to Novi Sad and Sremski Karlovci. You will tour the lively city of Novi Sad - once the border area during the great Austro-Ottoman war. The second-largest city in Serbia is now a cultural, economic, and trade centre and we will visit the Greek school and the Old Matica Srpska Library and Gallery (from outside), before viewing the intricate and iconic art inside the Orthodox Cathedral. We will admire the beautiful scenery while discovering Petrovaradin Fortress, the best preserved fortification on the Danube River built during the reign of the Queen Mary Theresa with an iconic clock tower and a network of tunnels. Later on, you will continue on to romantic village Sremski Karlovci for historical and artistic sightseeing. The architecture will take you back in time and will remind you of how things long before used to be. In Sremski Karlovci we will have tour of its beautiful baroque centre - Patriarchal Residence, St. Nicolas Church, Gymnasium and The Fountain of Four Lions. In the afternoon, we will visit local winery for wine tasting with delicious lunch. Overnight in Belgrade.
Day 3: Belgrade - Nis – Sofia (Bulgaria)
Your adventure continues in Nis, town of extraordinary history and a birth place of Roman emperor, Constantine The Great-gratituded for Christianization of the Roman Empire. You will conquer the walls of fortress, built in the early XVIII century which today represents one of the most well-preserved fortresses on Balkan peninsula. You will also take a look at Skull Tower, and enjoy some pleasant time for a lunch break thru Tinkers alley-an charming small part of former "Turkish" street from XVII and XVIII century. This cobblestone path was once an old craftsmen street. After lunch we drive to Sofia for dinner and overnight.
Day 4: Sofia – the city at the foothill of Vitosha (Bulgaria)
In the morning, we start in the shadow of Vitosha Mountain to visit remarkable church Boyana, a UNESCO World Heritage Site and discover collection of well-preserved 13th century medieval frescoes and iconic art for a unique experience of this interesting, youthful city and to enjoy its beauty, history and places to visit. Here you will "follow the yellow brick road" as you stroll along Sofia`s yellow - glazed brick streets. In a half day tour you we will visit stunning Aleksandar Nevski Memorial Church, a masterpiece of late 19th - early 20h century famous for its gilded domes and masterful mosaics. And will continue to the Neo- Renaissance main building of the National Assembly, the Presidency and the Early Christian St. George`s Rotunda famous for its unique frescoes and original architecture. The rest of the afternoon is free.   Overnight in Sofia.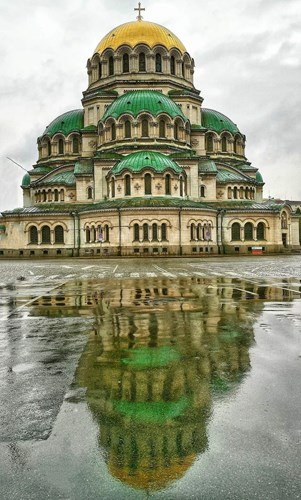 Day 5: Sofia - Rila monastery – Plovdiv (Bulgaria)
We drive to other UNESCO Wold Heritage - Bulgarian Orthodox Rila Monastery, located in a gorgeous mountain scenery. The monastery dates back to the 10th century, but has been plundered and burned down several times. This religious and historical epicenter maintained Bulgarian cultural preservation for hundreds of years, from medieval era all the way through to the 19th century. It is considered the highest achievement of Bulgarian monumental architecture. Here, you will have some time to admire this complex and to enjoy lunch with traditional Bulgarian food. In the afternoon, we will continue to Plovdiv for accommodation and overnight.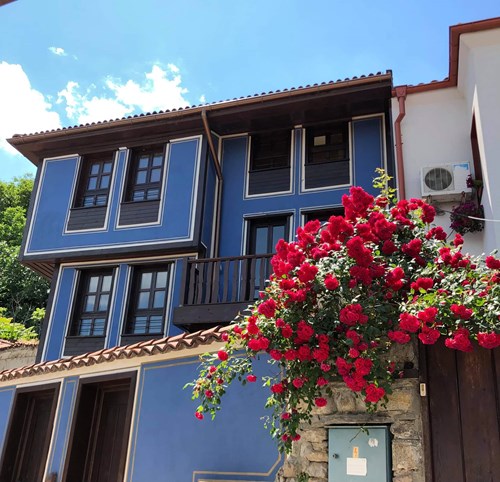 Day 6: Plovdiv - Kazanlak Thracian tomb - Shipka pass - Veliko Tarnovo (Bulgaria)
Today, we will explore Plovdiv - one of Europe`s most ancient cities founded by the Thracians which treasures a history that goes back thousands of years. We will visit the Roman theater of Philippopolis and Ethnographic museum situated in one of the oldest houses in this town, built in a beautiful baroque-inspired architectural style. After a stroll along steep cobblestone lanes in the Old Quarter for a feel of bohemian atmosphere and lively arts scene in the afternoon, we will drive through famous rose fields which are used for production of exquisite Bulgarian rose oil to witness one more UNESCO Heritage Site - the replica of the breathtaking 4th century BC Thracian tomb of Kazanluk, with exceptional paintings and superb murals from Hellenistic era. Next, voyage toward medieval Bulgarin capital - Veliko Tarnovo via the high mountain views of the spectacular Shipka pass will follow. We will visit Russian Church in the village of Shipka and historic monument at Shipka Peak, a sacred place for all Bulgarians. In the late afternoon, we will head for accommodation and overnight in Veliko Tarnovo.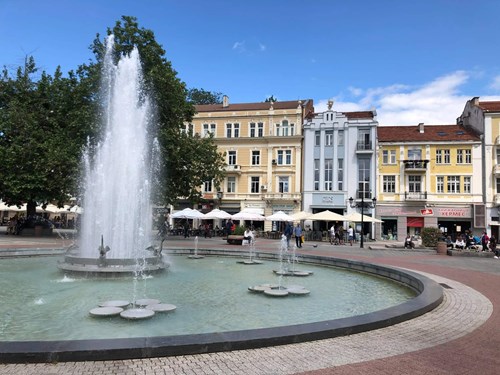 Day 7: Veliko Tarnovo - Arbanassi - Bucharest (Bulgaria - Romania)
On this day, we will enjoy morning tour of Veliko Tarnovo, walking through the Old Town with its narrow cobblestone streets and unique architecture. Here you can meet local artisans, learn about textile, artistic and metalworking traditions and search through the delightful shops. We will continue our journey to explore the ruins of fortress at Tsarevets (primary royal residence and a home of Bulgarian patriarch in medieval times), strategically placed on a hill. Later on, small side trip to picturesque village Arbanassi with houses built in the 17th and 18th centuries will follow, to visit Konstantzalieva House and Nativity of Christ Church. In the afternoon, we will depart for a drive north in the direction of the Romanian border for overnight in Bucharest.
Day 8: Bucharest (Romania)
After breakfast, city tour of Bucharest, the vast Romanian capital situated on the banks of the Dâmbovița River will follow. You will learn about more than 500 years of history from the times of Vlad the Impaler to the "golden era" of communism and the '89 Revolution, unraveling the stories of the old and  the new Bucharest. In the afternoon, we will transfer to resort town of Sinaia and home of Peles castle. Dinner and overnight in Sinaia.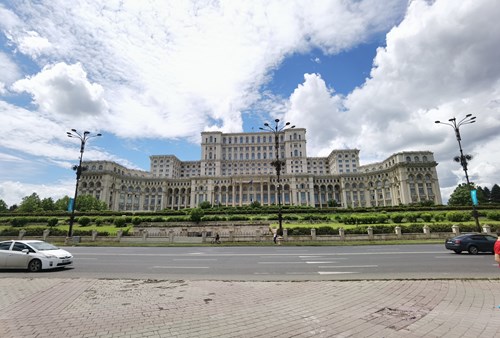 Day 9: Bran castle – Sinaia, Peles castle - Bucharest (Romania)
This day starts with morning visit of one of the most celebrated sites in all of Romania "Dracula" - Bran Castle, situated on top of a strategic site which is overlooking a mountain pass between Transylvania and Wallachia. It was built somewhere between 1377 and 1388 . Vlad the Impaler ruled this land in the 15th century and is also known as Vlad III Dracula, who was an inspiration for the fictional character Count Dracula. Here, we will explore the castle`s fairy-tale architecture and fascinating history that leaves you breathless. In the afternoon, we will continue back to resort town of Sinaia through untamed Transylvanian wilderness and will tour Peles Castle - the astonishing 19th century royal abode. It is a masterpiece of German new Renaissance architecture, considered as one of the most stunning castles in Europe. We will also visit lovely Sinaia Monastery with its beautiful tower bell and gold mosaic paintings. We will end the day with traditional Romanian farewell lunch and evening return to Bucharest for overnight.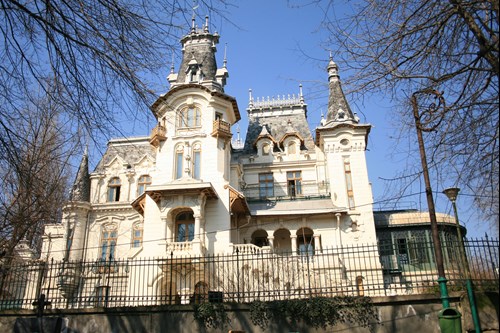 Day 10: Bucharest (Romania)
Departure transfer to the airport for flight back home.