Day 1: Visit of Stobi, an ancient reminiscence & wine divine, wine degustation at renowned winery of Popova Kula
After the departure from the International Airport in Skopje you will arrive in Bitola and accommodate in hotel in the city center where a traditional dinner will follow. While in transfer, after an hour of ride from Skopje airport, you will arrive in Tikves region to the welcoming meal served in one of the most renowned wineries Popova Kula designed in traditional 19th-century Macedonian style. Established on location where King Aleksander Karadjordjevic planted his first wines, today, Popova Kula produces extraordinary wines from 11 different local grapes: Vranec, Cabernet Sauvignon, Temjanika, Chardonnay, Muscat. Popova Kula has specially designed tasting room, decorated with local furnishings, offering spectacular views over the winery`s estate. Later on, you will visit the archeological findings in STOBI to eyewitness the historical proves that people in this area have grown wineyards and produced wine since 13th century B.C.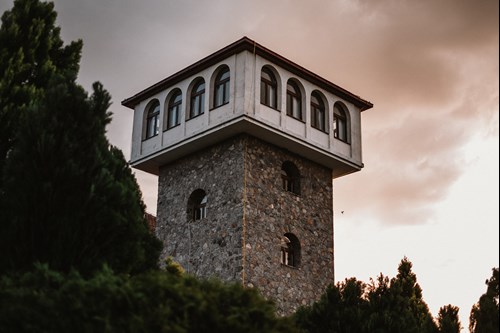 Day 2: Walking back 200 years around untouched village of Malovista, National Park Pelister
Transfer from Bitola to village Malovista, the only village settled within the borders of National Park Pelister. Malovista was built in the antique period with social, cultural and economic flourish during 19/20th century having back then, 3.000 inhabitants and still is the only village in North Macedonia that has urban planning and urban arrangement of its territory. Inclusive to its inspiring and evocative nature, Malovista is proud of its cultural and historical legacy. In the village center, the biggest rural orthodox cathedral church was built in the late 19th century, dedicated to St. Petka. Today, this sanctuary, possess the second largest icon collection in the country, exhibiting 76 icons, all locally made, in a period of 6 centuries. In 1.5 km of the village, another honored sanctuary is located: the monastery of St. Ana. Resting in a serenity of a deep beech forest shadows, St. Ana welcomes its guests with pure mountain water, which the local population believes to have healing powers. On the nearby hill, erected at 2.000 m, the 19th century church of Holy Salvation protects and overlooks the area. Hikes and walks in Malovista and its surroundings are followed by unforgettable overviews and sceneries of National Park Pelisters` forests, slopes, peaks, rivers and silky green meadows "spotted" in black and brown by famous Malovista horses. Blues and turquoise of the sky are ever-present companion and energizer for the hikers. You will enjoy hike from Malovista to church St. Spas (highest sanctuary in National Park Pelister located at 2.000 m), locality Kodro, peak Mala Chuka, Monastery St. Ana (19th century) and back to Malovista. Total 11 km, 900 m D+, 6 hours. In the afternoon, you will have transfer from Malovista to Bitola for a dinner at hotel.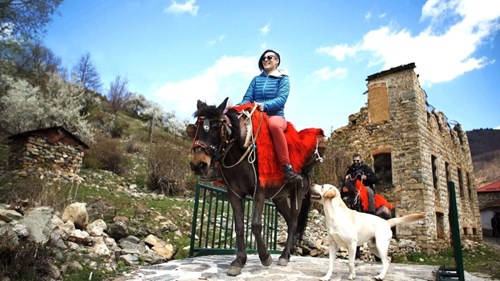 Day 3: Baba Mountain (National Park Pelister) – UNESCO Biosphere Prespa lodge
Transfer from hotel to Info Center in NP Pelister, 12 km, 25 min. Today`s hike, guided by professional International Mountain Leader, is from the Info Center to the highest summit in the National Park - Pelister Peak. En route, we will visit of WW1 hospitals and bunkers at 2.000 m. Total 24 km, 1.200 D+, 8 hours. Transfer from Info Center to hotel for dinner at hotel. Lunch package included. Tour highlights: views of Prespa biosphere reserve, Jablanica Mountain, National Park Mavrovo, Mount Olympus (Greece) and WW1 remnants. National Park Pelister was born 465 million years ago, declared National Park in 1948, Pelister is the oldest in North Macedonia. Located in the southwest, Pelister is home of three different climates, 30% of the entire dendro flora in Macedonia and more than 1.000 units of plants. The endemic species - Macedonian pine known as 'molika' Pinus peuce Grisebach, discovered in 1843 is a tertiary relict plant emblematic for the territory of Pelister. A five - needle leafed pine which forms the greatest forest vegetation in the Park, reaching up heights of up to 2.500 m.a.s.l. NP Pelister is a territory abundant with rich endemic and relict fauna. A large number of its invertebrate animals are endemic, glacial and relict. Crafted by nature during the Ice Age, Stone Rivers (slopes of terrain filled with crushed granite blocks, dolerit, gabbro and quartz schist, piled on each other) are also insignia of the identity of the Park. Being major battlefield in the World War 1, Pelister is an open-air museum. Its trails exhibit remnants of bunkers, trenches, military Headquarters and hospitals. The famous trade Roman Age route Via Egnatia also passes thru the territory of the Park. Pelister`s higher zones offer sensational views to Prespa Lake and Galicica National Park.
Day 4: Swim into Glacial lakes at 2200 m.a.s.l.
Transfer from hotel to village Nize Pole, 11 km 20 min. On this day, we will hike from Nize Pole to glacial lakes Pelister`s Eyes at 2.200 m. In total, accompanied by International Mountain Leader we will pass 12 km, 900 D+, 5 hours. On this beautiful location, we will have traditional lunch served on the shorelines of Big Pelister Lake. Tour highlights include: National Park Pelister, views of Pelagonija plain and perfect sceneries along the trail, WW 1 battlefield legacy such as French Road and authentic bunkers. In the afternoon, van transfer from Bitola to Ohrid and accommodation in hotel will follow. Dinner at hotel and overnight in Ohrid.
Glacial Lakes Pelister's Eyes: National Park Pelister has vastly developed hydrographic network – dozens of springs and streams, 23 mountain rivers, and the most famous token, its glacial lakes, Pelister`s Eyes. Big Lake lies at an altitude of 2.218 m and it is one of the highest glacial lakes in Macedonia, covering area of 4.2 ha with 223 m lenght, 162 m width and 14.5 m depth. Next to the Big Lake, a mountain hut is operating offering possibility for traditional Macedonian mountaineering lunch as well as exhibition of items of the first Macedonian Mount Everest expedition. Small Lake lies at altitude of 2.180 m and it is source crest of Red River. Small Lake is 79 m long, 68 m wide and 2.6 m deep. Both lakes have highest national protection and are part of cross border UNESCO-protected Prespa Biosphere reserve. Here, you will have traditional lunch at Pelister`s Eyes mountain hut. In the mountain hut we serve homemade specialties including pastry and meat. Depending on the weather conditions one can be served inside by the fire or outside looking at the spectacular views of the glacial lakes. The bravest can also have a refreshing swim into the cold lake waters.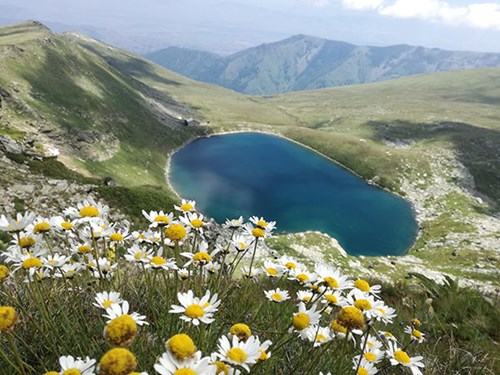 Day 5: Visit of Monastery St. Naum and Bay of Bones (boat trip) and traditional lunch, Ohrid city tour
The Monastery complex St. Naum is located 32 km from Ohrid on a cliff with a breathtaking lake view. The monastery is named after his founder - Saint Naum and represents the finest of Macedonian history and culture. A piece of land where nature and divinity make everybody feel peace, and tranquility. Crossing the Monasteries` gates open a scene of beauty, holiness and calmness - a treat that St. Naum offers to all its guests. After this beautiful discovery that satisfies the quest for peace and beauty, it is time for good food. Lunch will be served nearby the life-giving springs of Crn Drim River. Here, you will have the rare privilege to enjoy the taste of variety of fish – menu, including world known Ohrid Trout, cooked on a traditional manner. On the way back to Ohrid, next stop is the Bay of Bones. Guests will visit a reconstruction of a prehistoric settlement dating from the end of the Bronze and the beginning of the Iron Age, in the period between 1200 and 700 year B.C built on the shores of Ohrid Lake. In the afternoon, a guided city tour of Ohrid will follow. UNESCO protected site, Ohrid is Macedonia's most seductive destination. It spreads on the edge of the oldest lake in Europe, with an atmospheric old town that cascades down steep streets, dotted with beautiful churches and topped by the bones of a medieval castle. Traditional restaurants and lakeside cafes up its cobblestone streets, which in high summer is pretty lively scenery. Ohrid is small enough to hop from medieval historic monument into a deck chair and dip your feet in the water – a lovely little town beach and boardwalk make the most of the town's natural charms. Its medieval part encloses world-wide monuments particularly important for the Slavic and Byzantine story. Plaosnik is home to the multi-domed medieval Church of St. Kliment and Pantelejmon, the foundations of a 5th-century basilica and a garden of intricate early Christian flora-and-fauna mosaics. Its central church was restored in 2002, it is unusual in having glass floor segments revealing the original foundations and framed relics from the medieval church, which dated to the 9th century. In extension, St. Jovan Kaneo, a stunning 13th-century church is set on a cliff over the lake, about a 15-minute walk of Ohrid's port area, being probably North Macedonia's most photographed object. It's not hard to peer down into the azure waters and see why medieval monks found spiritual inspiration here. This small church has original frescoes behind the altar. In the very core of the city`s old town, Ohrid's grandest church, 11th-century St. Sofija Cathedral is supported by columns and decorated with Byzantine frescoes, still well preserved and very vivid. To one side of the church there's a peaceful, manicured garden providing a small oasis of green in the heart of the Old Town. At the very top of Ohrid`s hill, the massive, turreted walls of 10th-century Castle indicates the power of an medieval state, while nowadays it gifts tourists fantastic views over the town and lake.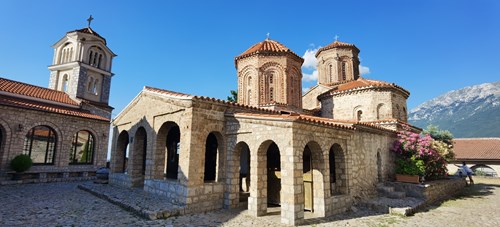 Day 6: Hidden beauty of National Park Galicica
Transfer from hotel to village of Velestovo in National Park Galicica 5 km, 15 min. Hike from Velestovo to Letnica locality, village Ramne, Ponik springs and ending at Biljanini Izvori. Total 12 km, 500 D+ 4-6 hours.  Transfer from Biljanini Izvori to hotel and dinner. National Park Galicica is situated on Mount Galicica which is a part of the mountain range of Shara-Pind. Due to its exceptional natural beauty and extremely diverse and endemic flora and fauna, in 1958 the Macedonian section of the mountain was proclaimed a National Park. The Park covers an area of 227 km2 between the Lakes of Ohrid and Prespa. The massif has developed relief with large and deep valleys and a vast mountain crest that in the southern part of Galicica reaches the altitude of more than 2,000 m. Such relief, as well as the vicinity of the two Lakes enables continuous, extremely long and beautiful scenic views for visitors. Galicica enjoys moderate continental climate influenced by a large quantity of water from both Lakes and the hot Sub-Mediterranean influences that break through the relatively low mountain saddles in Albania. In addition to the extraordinary natural beauty and aesthetic values, Galicica is also a unique environment with well-preserved natural flora in several ecosystems. The flora in the National Park Galicica covers more than 800 species, among which there are numerous relict and endemic forms. The presence of 11 local endemic forms discovered is quite remarkable. These forms exist only on the territory of Mount Galicica, and are clear evidence of the specific floral structure of the mountain. The fauna on Galicica is also prolific and diverse. Vertebrates are present with 170 species: 10 amphibians, 18 reptiles, 124 birds, and 18 mammals.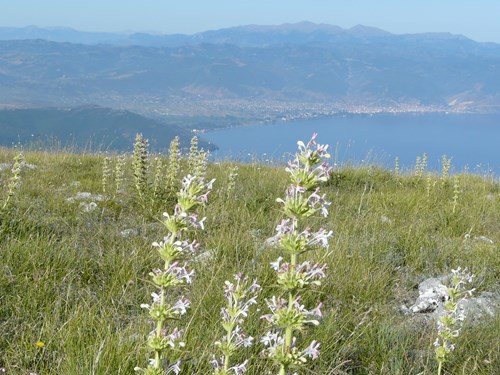 Day 7: Vevcani - "Republic" within Republic
Transfer from hotel to village of Vevcani 29 km, 30 min. Our hike for today, guided by International Mountain Leader, will be from famous Vevchani springs to the ancient site of Vajtos, Monastery St. Clement, peak Pisanik, locality Jankov Kamen and back to Vevchani Springs. In total, we will pass 10 km with 550 D+ in about 4-6 hours. In the afternoon, we will have transfer from Vevcani to hotel where dinner will be served. Vevcani, an "Independent Republic" within a Republic has its own currency and own passports, the most rebellious and outbrave community in North Macedonia welcomes its guests on a journey thru time, tradition and tales. Nestled at 800 meters above sea, safeguarded by Jablanica Mountain for more than 24 centuries, Independent Republic of Vevcani is proud of its river springs, revolutionary past, Carnival, architecture, food and of course, its famous Vevcanians. This rural municipality is considered the most distinctive community in Republic of North Macedonia - never subdued, always proud. Famous for their Vevcani Springs, Vevcani Carnival, architecture made by their great masons, churches, archaeological sites and traditional gourmets, this self-proclaimed "Republic" always offers a remembering experience. Even being a small settlement with small number of citizens, Vevcani is proud to be the home of many poets, painters, novelists, partisans, rebellions, priests and even world known scientist. Mihajlo Pupin was one of them. While in Vevcani, the visit to his family house, today a museum and restaurant is a must. The House of the family Kitanovski is also a monument worth seeing. Its construction was so significant, that it has installed bricks brought from Belgium or doors bought in Greece. All the modern rebels and world order opponents, in Vevcani can buy its own currency "Licnik" or they can get themselves an Independent Republic Passport.
Day 8: Departure, (Skopje city tour, Macedonian Mix)
Transfer from Ohrid to Skopje 173 km, 2:30 hours. Skopje city center to Skopje Airport, 22 km 30 min.
Depending on the flight schedule, guests can have guided Skopje city tour. It will start by visiting the Museum of Mother Theresa, the Saint born in Skopje. By foot towards the Ottoman Stone Bridge, Medieval Fortress Kale, passing thru the newly built baroque Macedonia square including the renamed Alexander the Great statue. The most recent buildings of the Skopje 2014 project, all resembling the great baroque style settled along the main capital Square Macedonia and justifying the title of our day as "Macedonian Mix" will also be a part of our walking Skopje tour with an excellent chance for an unforgettable photos. Extraordinary Museum of Macedonian struggle offering staged wax statues in real size entering into Old Bazaar for delicious lunch and free afternoon for shopping local souvenirs close exploration of the everyday life of different ethnics thru coffee or tea and mingling with the locals.